English
We have developed a curriculum which ensures children spend longer being taught the common features and skills in reading and writing in order to have a more coherent English curriculum and therefore be able to develop mastery in English.
The curriculum has been adapted using various methods such as: talk for writing, having a strong grammar focus, using high quality novels and books as well as a clear approach to teaching spelling.
Reading
Guided reading

Reading at home

Reading for enjoyment

Phonics and fluency

Focus groups reading with adults within a carousel

Whole class teaching of reading and comprehension

A book chosen by the child

A book chosen by the teacher (when pupils are working within banded levels)

Home – school reading diaries (must be recorded in weekly by teacher)

Reading buddies

Treasure Chest for pupil voice book choices

Book corner projects

RWI programme for decoding

RWI books to build the beginnings of fluency

Fresh Start to build fluency
Writing
English writing topic is based on stories by well known authors and the children are given time to immerse themselves in the story and get to know the characters and story format.
All year groups follow a 'Learning Journey' process for writing that progresses from exploration, vocabulary generation and role play into sentence level and grammar techniques and opportunities for several different pieces of writing.
To illustrate the Learning Journeys, every class has a Learning Journey display which acts as a working wall. We aim for one 'quality write' per week and 'hot write' timetabled at the end of each unit draws on the skills developed throughout the Learning Journey.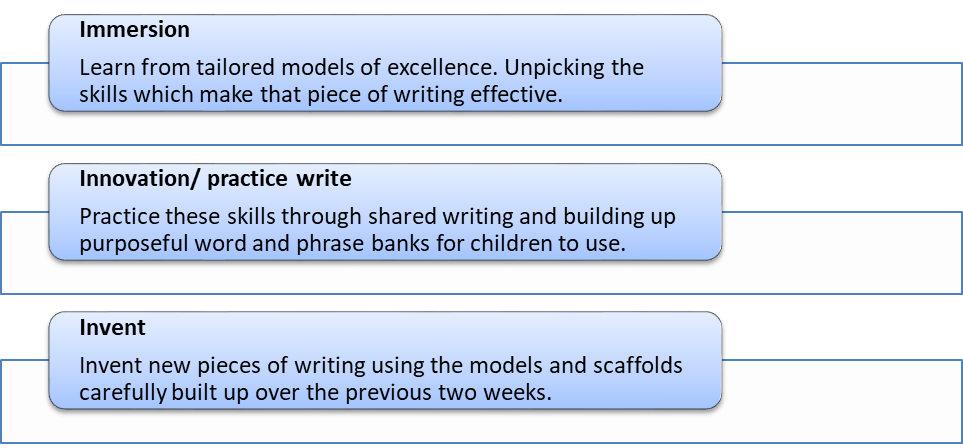 During English lessons, teachers model writing strategies and the use of phonics and spelling strategies in shared writing sessions. Guided writing sessions are used to target specific needs of both groups and individuals. As part of the learning journey the children are taught to edit and improve their own work as they write, as this is a vital skill in improving the quality of written work.
We teach handwriting in all classes and encourage children to take pride in their attractive, swift and fluent script. The careful formation of letters begins in Reception, and the joining of letters in 'continuous cursive style' begins in Year One. Neat, cursive handwriting is the expectation for pupils beyond Year Two.
Spelling
There are daily spelling lessons where pupils will be taught specific groups of words, as directed by the English lead. These spellings will be sent home. When a pupil comes off RWI programme then the spellings will be sent home and pupils will be tested on them. Spelling tests will focus on re-visiting old spellings and testing new ones. Pupil will have individual logins to spelling shed where they can access and practice ability appropriate spellings at home.